Ignite Your Child's Learning
95% of our students improve by 15-25 marks in 6 months
Ignite is a tight-knit community of teachers and students who love learning and love excelling the process. We use innovative teaching methods to ensure our kids love the learning process, combined with top-quality teachers, teaching assistants and curated learning materials to drive their performance ahead of their peers
PRIMARY
Subjects
English, Math, Science, Chinese
SECONDARY
Subjects
English, E.Math, A.Math, Chemistry, Physics, Chinese, Lower Sec. Math, Lower Sec. Science
JUNIOR COLLEGE
Subjects
General Paper. Math, Physics, Chemistry, Economics
KINDERGARTEN
Subjects
Phonics, English, Math, Chinese
2020 Headstart Programmes
Waiver of registration fees (worth of $50). Ends Tuesday 15/10.
Up to 25% off 2020 Tuition classes (lessons starting in January). Ends 30/10.
Learning Environment
We create an environment that is safe and positive, giving students all the tools they need to grow.
Teaching assistants
We deploy teaching assistants throughout our school to assist your child whenever your child has questions in, or out of class. If your child has any questions about their school work, they can come down any time for a free consultation.
Customized personal reports for parents
Students at Ignite will get regular personal assessments so they build confidence in their abilities and learn where they can improve. Parents are sent a customized personal report based on these assessments so you are always kept in the loop.
no-deposit policy
We firmly believe against locking your child down in a tuition program that isn't serving their needs. That is why we follow a no-deposit policy that goes against the norm because we are confident that your child will bloom under our care.
Student Testimonials
Hear from our students about why they love ignite!
"THey focus on the reasoning, instead of forcing the knowledge onto us"
CHloe's DAd: "so how much did your science improve before and after ignite?"
"She doesn't say "I don't want to go to school" anymore"
watch this candid, unedited clip of a parent's testimonial about how Ignite has impacted her daughter
View Recent Student Results
(Click the picture to view more results)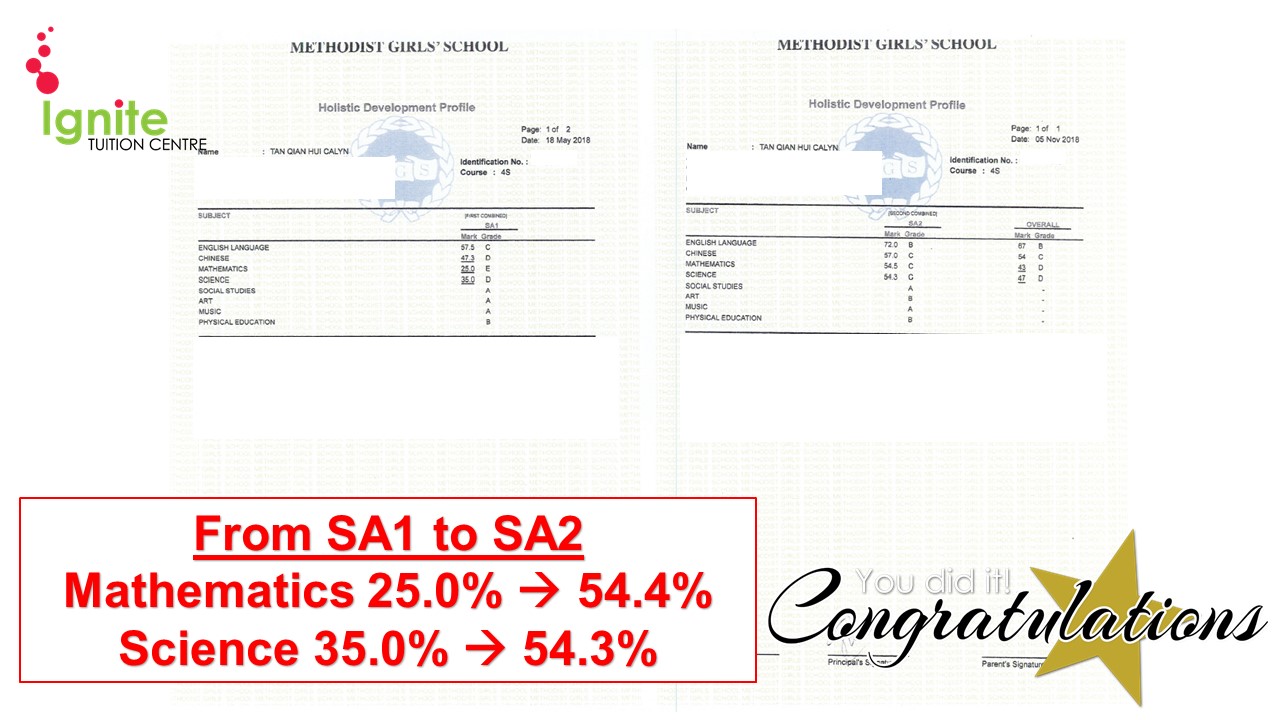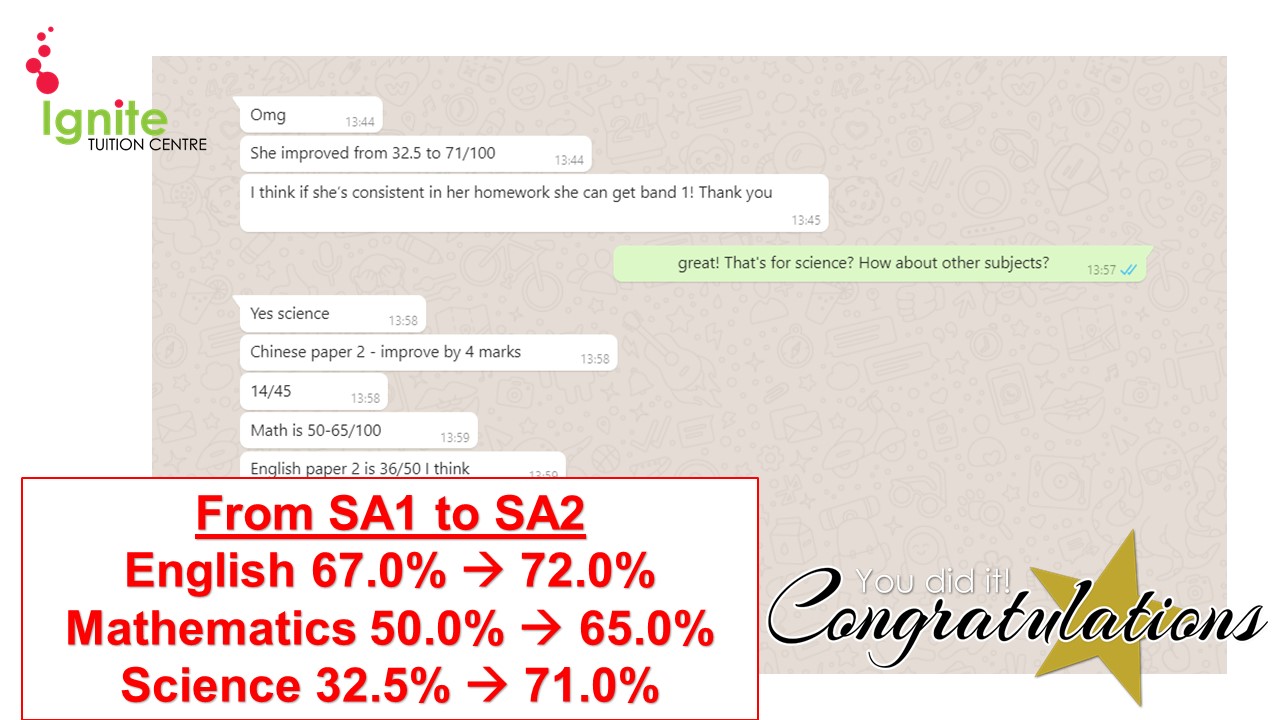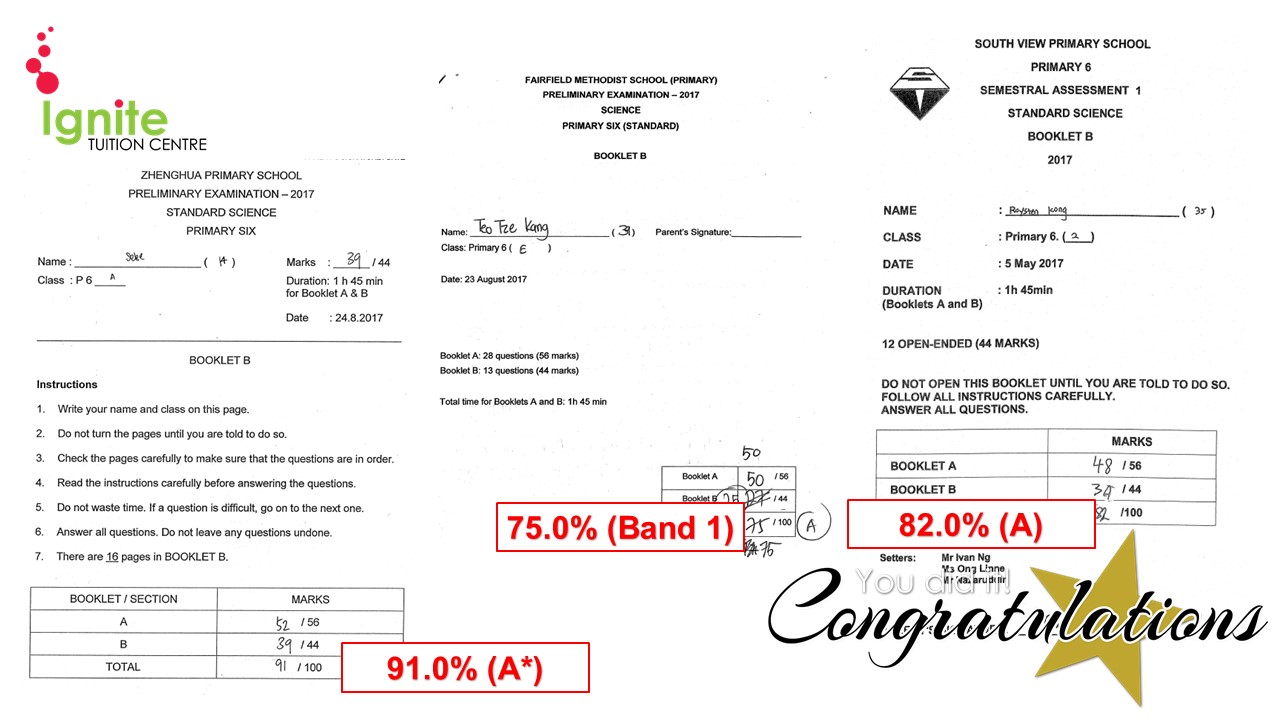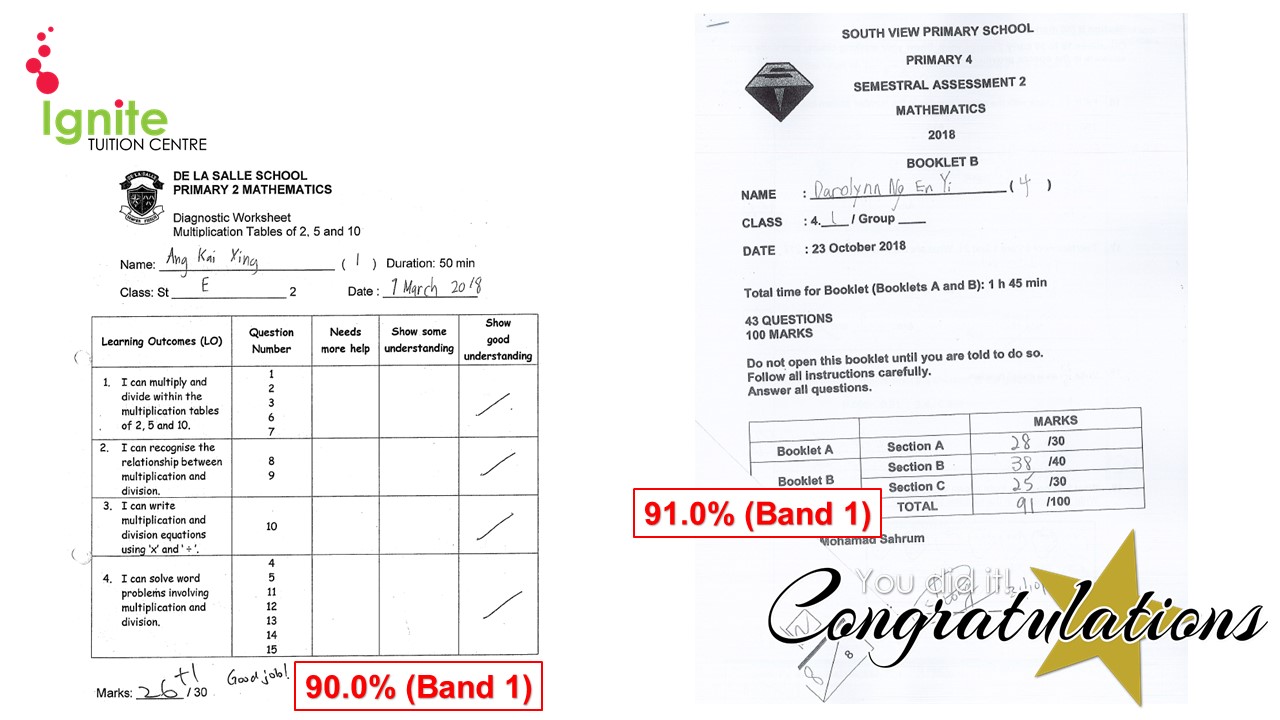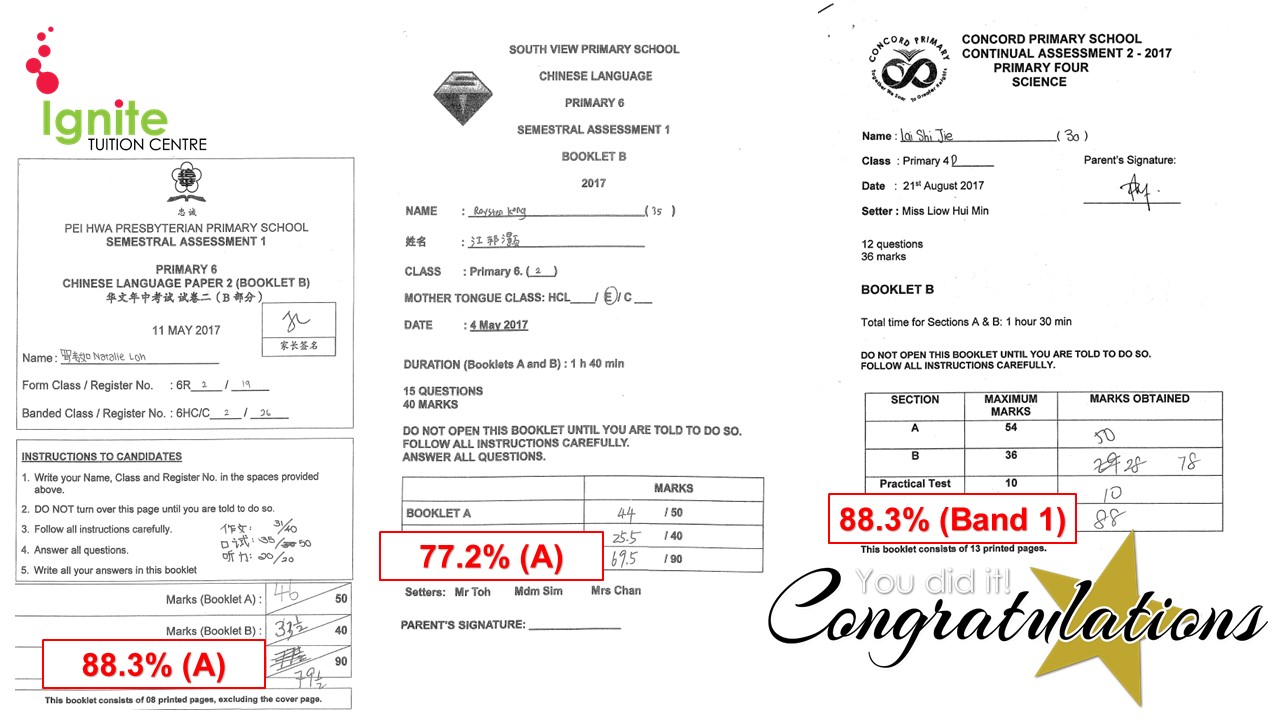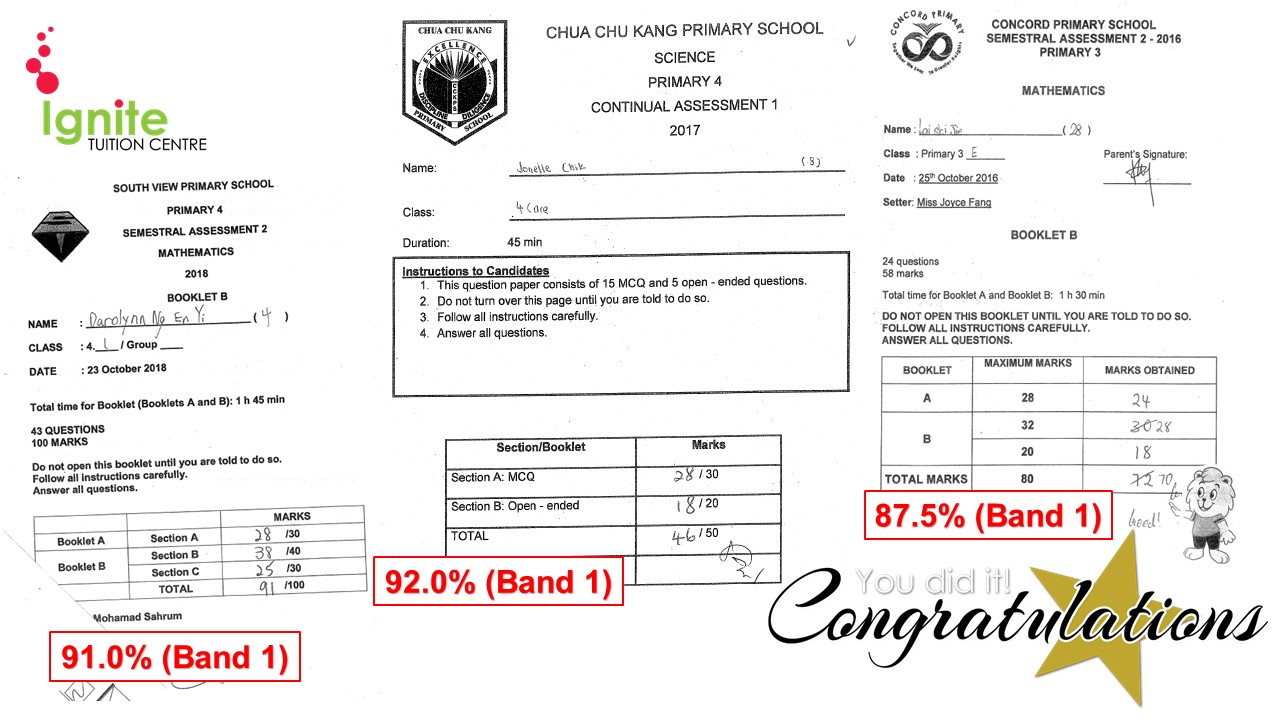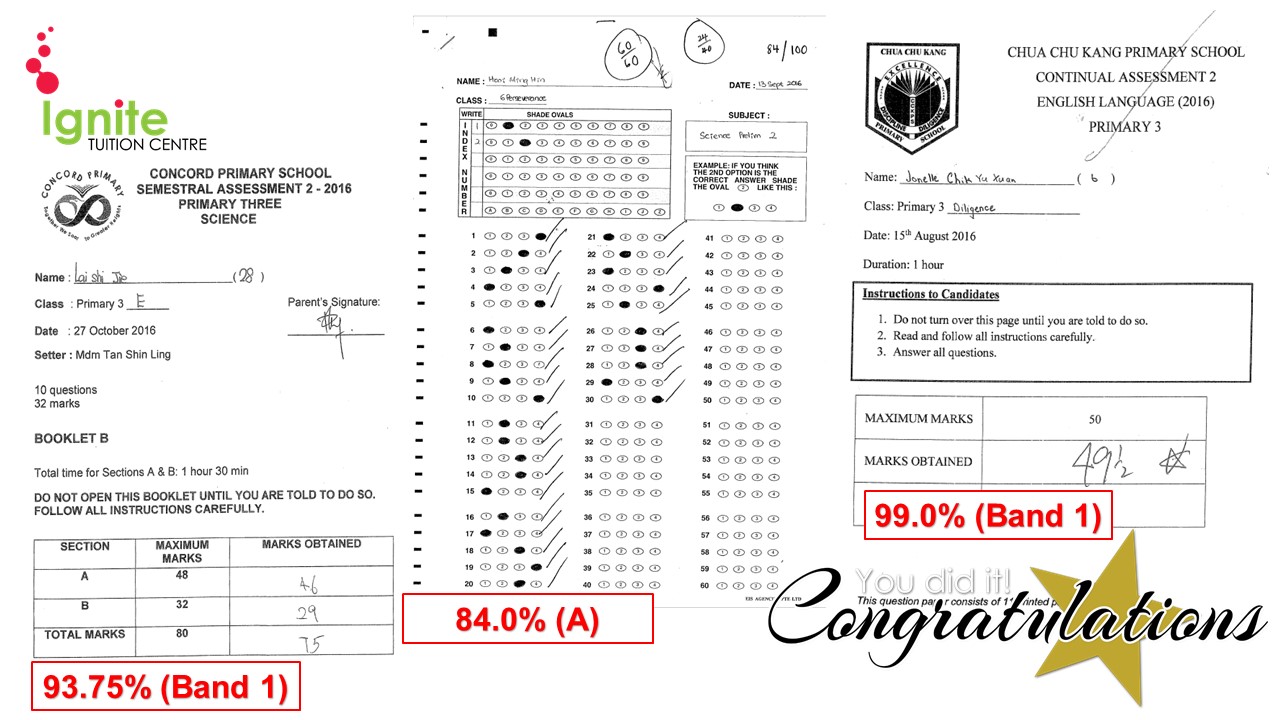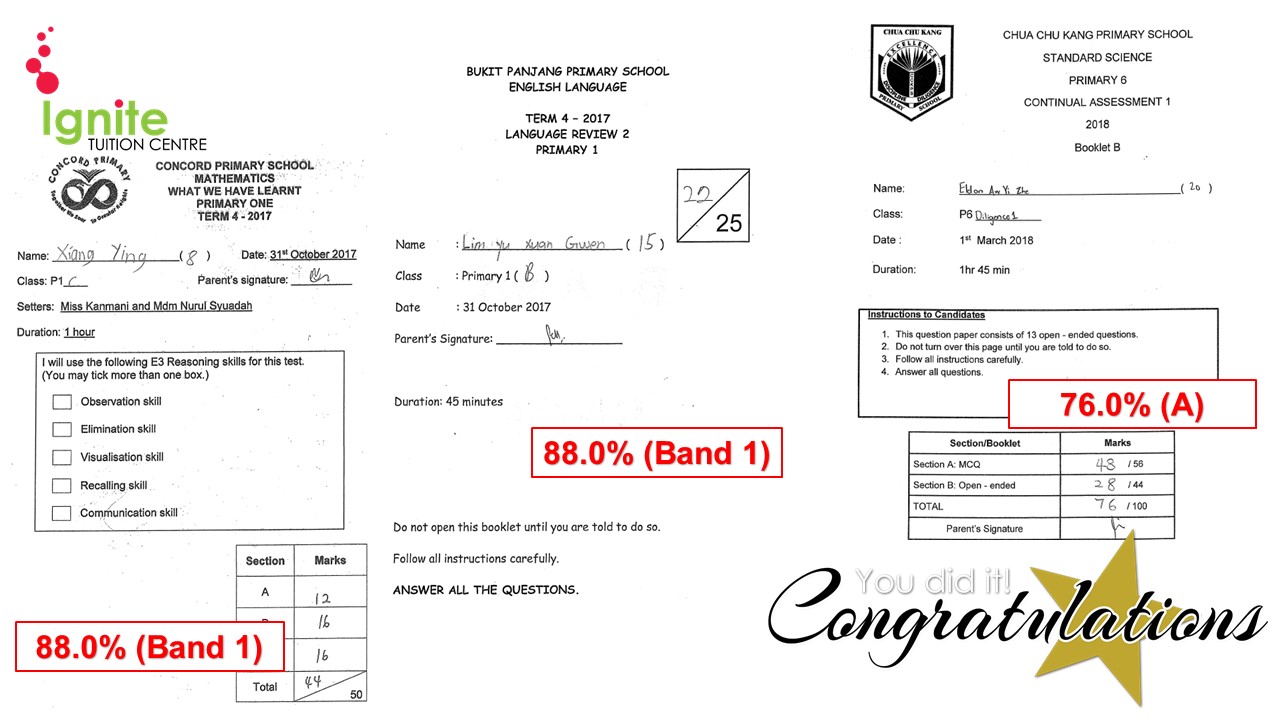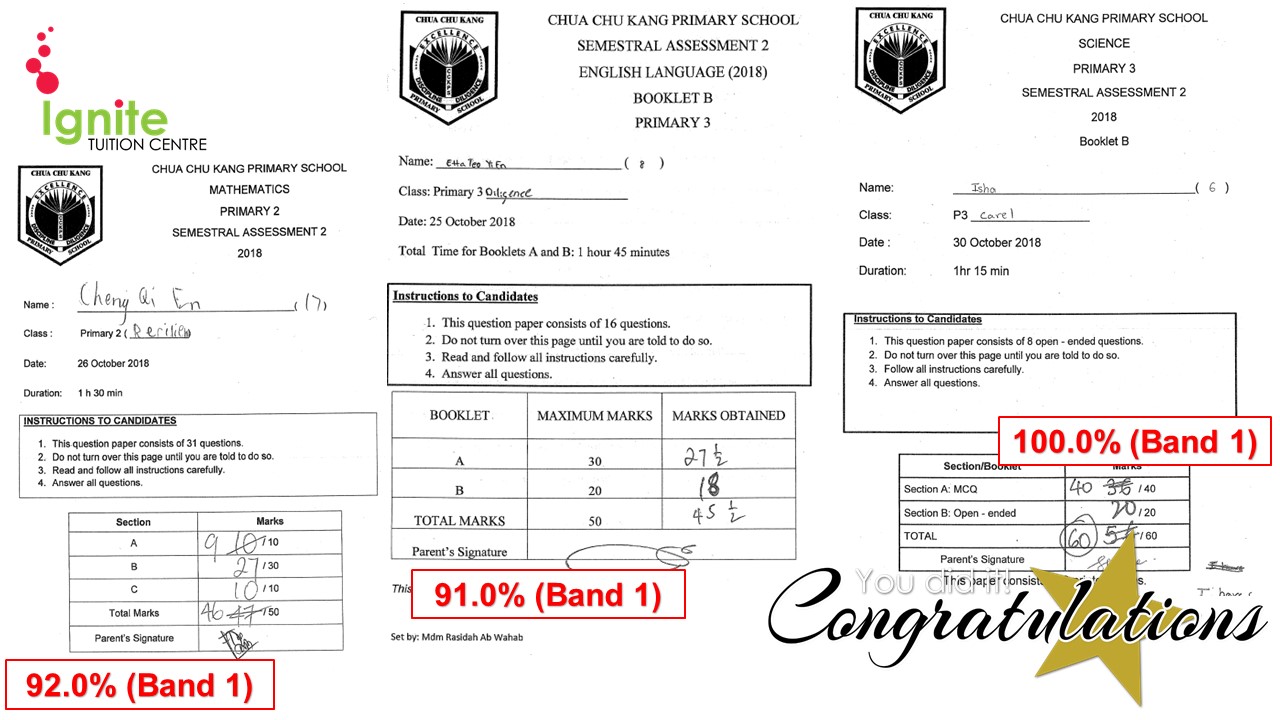 Qualified & Passionate Teachers
We pride ourselves in our teachers, who are handpicked from a rigorous selection process. Our team of tutors are all NIE-trained and fully experienced full-time tutors. Within our team, we also have ex-HODs. Our dedicated tutors teach classes ahead of school, so that your child will be able to keep up and excel in tests and exams.
Premium Notes & Worksheets
Compiled by a fleet of education experts, these notes and worksheets have been used by over 3500 students who have seen improvements in their results.
Ultra-Refined Curriculum Structure
Our specially crafted curriculum ensures deep learning in each subject, making our students adaptable to challenging problems and questions. We also conduct internal mock exams with our own material for students to gauge their readiness, clear any doubts, and boost their confidence before their actual exams. We also teach secondary school subjects at G2/G3 levels in line with upcoming MOE changes.
ready to get started?
Click Register to get more information on classes, schedules, rates and other programmes!
Enrichment Classes
We run additional enrichment classes concurrently with the normal school curriculum to bolster your child's long term learning ability. Contact us to find out more.
Science Experiment Classes (Primary 3 to 6)
problem solving skills (primary 1 to 6)
creative writing for english & Chinese (Primary 1 to 6)
Blk 252 Choa Chu Kang Ave 2 #01-304
Singapore 680252
Contact Number: 6893 0877
BLK 456 Jurong West Street 41 #02-726 Singapore 640456
Contact Number: 62720087


NEW*: 406 JOO CHIAT PLACE LEVEL 1, THE YARDS SINGAPORE 428084
Contact Number: 8322 1619
Questions? click submit query below, fill up the form and we'll get back to you asap! OR whatsapp us directly!
For Franchising Opportunities, email us at joy@ignitetuition.com.sg